ЗНАКОМСТВА
КРАСОТА
ЗДОРОВЬЕ
ТУРИЗМ
АВТОНОВОСТИ
НОВОСТИ СПОРТА
The first growers in Vladivostok received compensation for travel to their country site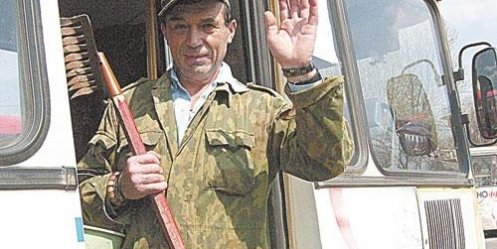 To district administration for the implementation of programs to support the population of the Vladivostok Administration continues receiving documents to be paid for travel on the plots. From late March to the applicant already started to receive monetary compensation.
"Every gardener can get a one-time cash payment of travel suburban area of 3000 - Said the deputy head of the execution of programs to support the population Irina Samusenko. - May qualify for payment of the family with minor children (one parent and all minor children) with incomes below the poverty line, as well as pensioners, with no benefits (women - 55 years old - 60 years), with an income of less than 1.5 subsistence level (to date the amount is - 9265 rubles) " .
Acceptance of documents will continue until April 30.
To become a recipient of the social support must apply to the district departments control the execution of programs to support the population of the city administration:
Frunze District - st. Fokin, 25 kab.23 tel. 2614-395
Leninsky district - Partisan Avenue, 3 tel. 2614-167
Pervorechenskij area - st. Ilicheva, 15 of. 11 tel. 2614-201
Soviet area - st. Kutuzov, 3-a, tel. 233-02-46;
Pervomaysky region - st. Kalinin, d.116 office. № 11 tel. 227-36-29.

8-07-2013, 23:48, eng news
A monument to the poet and actor Vladimir Vysotsky - a long-standing dream of Igor Pushkarev. Almost two years head of Vladivostok carefully chosen among the many designs offered by sculptors, "his"...

19-04-2013, 16:00, eng news
Helicopter MI-8 following in the city Spassk - Far to practice training runs, was also involved in the raid on monitoring forest fire and flood situation......

20-08-2013, 14:02, eng news
As reported by the Department of Agriculture and Food of the Primorsky Territory, the winner is the 25 manufacturers. Among them - LLC "Seaside confectioner", JSC "Vladkhleb", LLC "Ratimir", LLC...

15-03-2013, 12:55, eng news
A unique chance to look at the original masterpieces XX centuries is vladivostoktsev this Friday (PHOTO)......
31-07-2013, 13:48, eng news
In Vladivostok, discussed the idea of organizing the fireworks festival. It sounded Mayor Igor Pushkarev live radio "Lemma", which lasted for the radio station from 8 am to 10 am. "In Vladivostok is...

17-05-2013, 13:30, eng news
Primorsky Territory Governor Vladimir Miklushevsky today, May 17 assessed the planning and tactical training to curb terrorist activities in the province. In Primorye completed counterterrorism...

22-09-2013, 16:04, eng news
26-year-old resident of Vladivostok took from his own grandmother's gold chain. With respect to the suspect remanded in the form of restriction. As the press service of the Ministry of Internal...

27-03-2013, 13:00, eng news
In partisan teenager received a fatal electric shock. Three teenagers were walking near the train station, and one of them climbed on the tank of a freight train. Teenager killed in Primorye from...

30-03-2013, 08:00, eng news
Her friends are still at large, police appealed for help to the residents of the region. (PHOTOS)......
28-06-2013, 21:15, eng news
In Artem in celebration of Youth Day celebrated young people - active participants in urban affairs, the winners of competitions, contests and festivals, urban, regional and federal levels, the...