ЗНАКОМСТВА
КРАСОТА
ЗДОРОВЬЕ
ТУРИЗМ
АВТОНОВОСТИ
НОВОСТИ СПОРТА
Schoolgirl from Primorye received the Presidential Award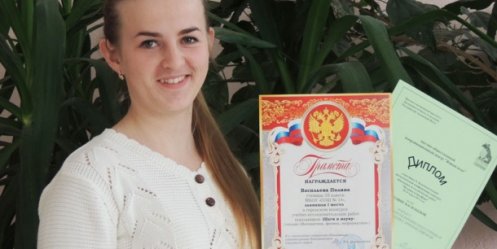 Photo: Primorsky Krai Administration

Nakhodka grader Paulina Vasilyev won the Prize of the President of the Russian Federation "Talented young people." According to the press service of Nakhodka city district administration, report female secondary school № 14 is recognized as one of the best X-Far environmental conference contest of student and school work, "Man and Biosphere".

Youth Forum, where young environmental researchers to share their experiences, share their achievements, took place over two days in Biology and Soil Science, Russian Academy of Sciences.

Polina Vasilyeva - pupil institutions of further education at home for children and youth tourism and excursions (DDYUTE). Deserved reward work "The impact of human pressure on the forest near the village of New Power."

"Here, in a clearing a few years the city hosts the annual tourist meeting students. Also it is a popular holiday destination, there is a lot of sports. To such intensive recreational load add various economic activities of villagers. And when thinking about environmental protection for many years a familiar and beloved forests should undertake research " - Noted in the report of a schoolgirl.

Young researcher going to tie their future with specialties that are close to the biological cycle.

8-04-2013, 10:40, eng news
Investment will be spent on expanding capacity of BAM and Trans - 25 million tons of cargo a year......

18-09-2013, 15:22, eng news
Today, every educational institution can boast such advanced equipment. An interactive whiteboard is a large touch screen that works as a part of the system, which also includes a computer and a...

5-04-2013, 06:30, eng news
City Duma Speaker Helen Nowicka spoke about the experience hospital № 3 as a result of individual interviews with the number of failures Pregnant Women from newborns was reduced by half......

6-04-2013, 14:30, eng news
On most of the region is projected glaze effects, wet snow on wires and trees......

15-07-2013, 18:16, eng news
This will result from the generation of repair work on a heating located on the street Zigure, 16. Hot water in this period will not be in the houses at the following locations: the streets Nyquist,...
10-06-2013, 22:30, eng news
This year the capital of Primorye will accept the 11th film festival of Asian-Pacific countries from 7 to 13 September. Work on preparations for the film forum boils hard - working selectors, already...

11-03-2013, 07:30, eng news
Today at Riviera launched the first stage of the All-Russian operative preventive action "together, where they sell death." In Primorye, started the action "together, where they sell death" first...
6-06-2013, 22:45, eng news
An unexpected continuation got a case of «American guest workers» - a us citizen Angela CBT, which some time ago in the American corner library. Gorky in Vladivostok taught English. In may this year,...

28-07-2013, 10:45, eng news
Japan's Toyota Motor Corp. retained its status as the world's largest automaker for the first half of 2013 overtaking the U.S. group General Motors (GM) and the German Volkswagen. Global sales of...
14-06-2013, 16:30, eng news
In the Japanese port of Vladivostok Toyamoshinka came ship «OCEAN PRIDE». Customs officers watching the unloading revealed that on board there are 15 undeclared vehicles as well as spare parts. Woz...