ЗНАКОМСТВА
КРАСОТА
ЗДОРОВЬЕ
ТУРИЗМ
АВТОНОВОСТИ
НОВОСТИ СПОРТА
Schoolgirl from Primorye received the Presidential Award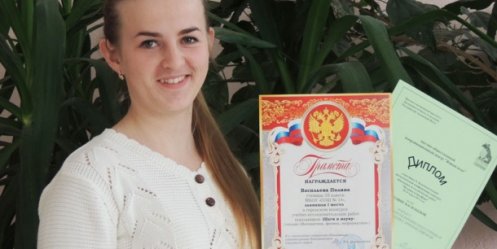 Photo: Primorsky Krai Administration

Nakhodka grader Paulina Vasilyev won the Prize of the President of the Russian Federation "Talented young people." According to the press service of Nakhodka city district administration, report female secondary school № 14 is recognized as one of the best X-Far environmental conference contest of student and school work, "Man and Biosphere".

Youth Forum, where young environmental researchers to share their experiences, share their achievements, took place over two days in Biology and Soil Science, Russian Academy of Sciences.

Polina Vasilyeva - pupil institutions of further education at home for children and youth tourism and excursions (DDYUTE). Deserved reward work "The impact of human pressure on the forest near the village of New Power."

"Here, in a clearing a few years the city hosts the annual tourist meeting students. Also it is a popular holiday destination, there is a lot of sports. To such intensive recreational load add various economic activities of villagers. And when thinking about environmental protection for many years a familiar and beloved forests should undertake research " - Noted in the report of a schoolgirl.

Young researcher going to tie their future with specialties that are close to the biological cycle.

20-08-2013, 13:45, eng news
At Monday, August 19 in a private house in the village of Borisovka body was found 47-year-old man with a stab wound to the torso. Given the evidence, the investigating authorities of the TFR in the...

9-04-2013, 12:50, eng news
In place of a night scene employs six people, working as a technician......
28-06-2013, 21:31, eng news
Congratulation honorary citizens recorded in the Park of Honorary citizens, inaugurated on 152-th birthday of the Vladivostok. «I live in this city for over 50 years and I can compare it once was,...

22-03-2013, 02:40, eng news
On Saturday, March 23 as part of the All-Russian protest in Vladivostok on the forecourt at the monument to Vladimir Lenin at 15:00 held a rally against the upcoming introduction of standards for...

1-04-2013, 12:10, eng news
Video "The fourth trolley", shot with the participation of "volunteers" from among young people during the tour, "Mummy Troll" in Vladivostok, released April 15 (VIDEO)......
5-06-2013, 10:00, eng news
Victims are not present, injured one person. In extinguishing were involved: 91 personnel and 28 units of equipment. Main Department of EMERCOM of Russia for the Primorsky Krai strongly recommends...
28-05-2013, 13:40, eng news
In civilized countries of the world, there are between 40 to 60 donors per thousand, in the Maritime region, this figure is 11 people......

25-03-2013, 09:00, eng news
On the last Thursday of the social rehabilitation center "Sail of Hope" in Vladivostok fled four teenage girls. All police focused their search, but so far no positive results. The girls escaped from...

5-07-2013, 18:46, eng news
Primorsky Territory Governor Vladimir Miklushevsky personally congratulated the first newlyweds whose wedding was held in the new hall of ceremonies on the Ship Quay. New Wedding Hall took the first...

16-05-2013, 13:40, eng news
All in the immediate vicinity: the wilderness, glaciers and national parks are offered at the Anchorage, Alaska......