ЗНАКОМСТВА
КРАСОТА
ЗДОРОВЬЕ
ТУРИЗМ
АВТОНОВОСТИ
НОВОСТИ СПОРТА
Schoolgirl from Primorye received the Presidential Award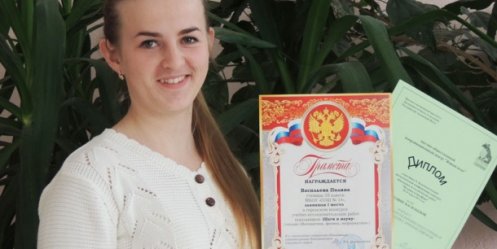 Photo: Primorsky Krai Administration

Nakhodka grader Paulina Vasilyev won the Prize of the President of the Russian Federation "Talented young people." According to the press service of Nakhodka city district administration, report female secondary school № 14 is recognized as one of the best X-Far environmental conference contest of student and school work, "Man and Biosphere".

Youth Forum, where young environmental researchers to share their experiences, share their achievements, took place over two days in Biology and Soil Science, Russian Academy of Sciences.

Polina Vasilyeva - pupil institutions of further education at home for children and youth tourism and excursions (DDYUTE). Deserved reward work "The impact of human pressure on the forest near the village of New Power."

"Here, in a clearing a few years the city hosts the annual tourist meeting students. Also it is a popular holiday destination, there is a lot of sports. To such intensive recreational load add various economic activities of villagers. And when thinking about environmental protection for many years a familiar and beloved forests should undertake research " - Noted in the report of a schoolgirl.

Young researcher going to tie their future with specialties that are close to the biological cycle.

4-07-2013, 07:32, eng news
About the organization of educational work told the assistant to the chief GU MVD of Russia in far East Federal district - head of the personnel Department, conspiracy and civil service...
3-06-2013, 14:42, eng news
Check out the recreation center by the sea was a gift for orphans and children left without parental care of the boarding school finds. Orphans Finds received gifts for the holiday holiday in nature...
7-06-2013, 17:16, eng news
Bailiffs in Yakovlevskiy district of Primorye is working on eight execution against a local woman. Negligent mother owed child almost 150 thousand rubles alimony lady in total to 258000 rubles. 148...
24-06-2013, 17:17, eng news
In the capital of Primorye pompously celebrated the day of youth. Saturated programme included many activities, one of the most massive steel «Веловыходные», which were attended by almost 700...

3-07-2013, 16:03, eng news
В этом году формат гонок изменён. Вместо двух привычных «больших треугольников» спортсменов ждут три коротких гонки в субботу в Амурском заливе, ещё одна короткая – в воскресенье. И завершит парусный...

22-07-2013, 19:16, eng news
Bailiffs in the Chernigov region of Primorsky Krai has long tried to collect support from a negligent mother. All possible terms have been completed and are now mothers, deprived of parental rights,...

18-04-2013, 10:10, eng news
In Primorye, arrested two men suspected of using slave labor on ships SS ROSS and SS Vele. The owners of the vessel SS Vele detained in Vladivostok Investigators intercede for their arrest. They are...

19-08-2013, 18:46, eng news
This morning, on an operational planning meeting with the deputy and the head of the city administration, the head of Vladivostok was unhappy that weekend to the most popular destinations - Shamora...

22-04-2013, 19:10, eng news
In the coming months, the missile cruiser "Varyag" will go on a long trip to the Pacific Ocean during a scheduled visit to several foreign ports of the Pacific. (PHOTOS)......

9-04-2013, 19:00, eng news
In Primorye, work began to restore the graves from the Second World War. Who is collecting information about lost tombs, which were on the no man's land. Experts have already travel to areas of...