ЗНАКОМСТВА
КРАСОТА
ЗДОРОВЬЕ
ТУРИЗМ
АВТОНОВОСТИ
НОВОСТИ СПОРТА
Schoolgirl from Primorye received the Presidential Award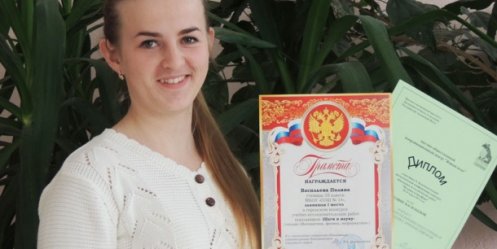 Photo: Primorsky Krai Administration

Nakhodka grader Paulina Vasilyev won the Prize of the President of the Russian Federation "Talented young people." According to the press service of Nakhodka city district administration, report female secondary school № 14 is recognized as one of the best X-Far environmental conference contest of student and school work, "Man and Biosphere".

Youth Forum, where young environmental researchers to share their experiences, share their achievements, took place over two days in Biology and Soil Science, Russian Academy of Sciences.

Polina Vasilyeva - pupil institutions of further education at home for children and youth tourism and excursions (DDYUTE). Deserved reward work "The impact of human pressure on the forest near the village of New Power."

"Here, in a clearing a few years the city hosts the annual tourist meeting students. Also it is a popular holiday destination, there is a lot of sports. To such intensive recreational load add various economic activities of villagers. And when thinking about environmental protection for many years a familiar and beloved forests should undertake research " - Noted in the report of a schoolgirl.

Young researcher going to tie their future with specialties that are close to the biological cycle.
19-06-2013, 18:15, eng news
Concerning the suspect criminal case according to article 158 of the criminal code (Theft). The duty of the Department of the interior Ministry of Russia Хасанскому district received a statement...
22-06-2013, 12:45, eng news
«According to the combined index of urban development, he took 5th place from 21 improving its score by 8 positions compared to last year. According to the residents participating in the survey, more...
4-04-2013, 06:40, eng news
Establish the circumstances of accident......

3-09-2013, 15:46, eng news
Former commander of the company of a battalion police control of private security to stand trial in Vladivostok. Police officer to be tried for bribery He is accused of abuse of office and bribery....

11-03-2013, 03:10, eng news
But they are wary approach to projects and small distributed power in the Russian Far East,......

16-09-2013, 13:50, eng news
For the past day in the Primorsky Territory there were 11 fires, killed and injured there. In the elimination of fire involved 104 people and 29 vehicles. 11 fires occurred in Primorye per night...
19-06-2013, 13:32, eng news
In the head office of Sberbank of the delegation of The Bank of New York Mellon (USA)headed by Sergey Kotov, managing Director, head of region Eastern Europe, handed to Sberbank «Award in recognition...

29-04-2013, 12:00, eng news
May 1 expedition will be on-site, overloading received food and other goods from containers in the bag......

1-03-2013, 09:44, eng news
Agency workers were not able to explain the cause of contamination of premises where children are present......

30-03-2013, 09:00, eng news
Mazda driver lives paid for leaving the "oncoming", and five in no way guilty of people were in the hospital......