ЗНАКОМСТВА
КРАСОТА
ЗДОРОВЬЕ
ТУРИЗМ
АВТОНОВОСТИ
НОВОСТИ СПОРТА
Victory Day in Vladivostok will meet music of brass bands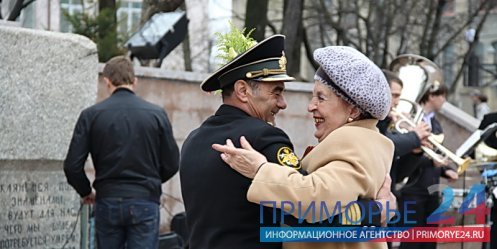 Photo: Ian Krasitsky

Vladivostok is nearly completed preparations for May 9. The head of the Primorye capital Igor Pushkarev ordered to make the celebration of Victory Day this year, larger and more colorful. One of the tasks that the mayor has set the organizers of the holiday - to create a veterans' mental environment in which they will be able to remember the combat youth, talk, once again experience the pride and joy of the Great Victory. And to involve in activities as much as possible of the townspeople.

Igor Pushkarev ordered to use for creating an atmosphere of celebration and new urban space. So from 6 to 9 May in the three parks - Sukhanov, the admiral and the park will be honorary citizens of atypical situation for the city everyday. In the square brass band began to play military songs and dance tunes. Complement entourage young men in uniform of World War II. This event is part of a series planned by the city administration of events entitled "Vladivostok, look."

All this will create for veterans, citizens and guests of Vladivostok emotional pre-holiday atmosphere. In a park veterans will encounter and conversation. This also can come and just thank the citizens of our dear veterans for the victory and our world of light.

"For the mayor Igor Pushkarev, for all of us - it's really a sacred holiday, - Said the deputy head of the administration of Vladivostok Elena Shchegoleva responsible for the organization of events on May 9. - Why we tried to make this holiday a soulful, beautiful, create special atmosphere that veterans feel a special warmth, thanks to this atmosphere and memories were able to return to youth. "
19-06-2013, 18:15, eng news
Concerning the suspect criminal case according to article 158 of the criminal code (Theft). The duty of the Department of the interior Ministry of Russia Хасанскому district received a statement...
22-06-2013, 12:45, eng news
«According to the combined index of urban development, he took 5th place from 21 improving its score by 8 positions compared to last year. According to the residents participating in the survey, more...
4-04-2013, 06:40, eng news
Establish the circumstances of accident......

3-09-2013, 15:46, eng news
Former commander of the company of a battalion police control of private security to stand trial in Vladivostok. Police officer to be tried for bribery He is accused of abuse of office and bribery....

11-03-2013, 03:10, eng news
But they are wary approach to projects and small distributed power in the Russian Far East,......

16-09-2013, 13:50, eng news
For the past day in the Primorsky Territory there were 11 fires, killed and injured there. In the elimination of fire involved 104 people and 29 vehicles. 11 fires occurred in Primorye per night...
19-06-2013, 13:32, eng news
In the head office of Sberbank of the delegation of The Bank of New York Mellon (USA)headed by Sergey Kotov, managing Director, head of region Eastern Europe, handed to Sberbank «Award in recognition...

29-04-2013, 12:00, eng news
May 1 expedition will be on-site, overloading received food and other goods from containers in the bag......

1-03-2013, 09:44, eng news
Agency workers were not able to explain the cause of contamination of premises where children are present......

30-03-2013, 09:00, eng news
Mazda driver lives paid for leaving the "oncoming", and five in no way guilty of people were in the hospital......