ЗНАКОМСТВА
КРАСОТА
ЗДОРОВЬЕ
ТУРИЗМ
АВТОНОВОСТИ
НОВОСТИ СПОРТА
Igor Pushkarev ordered to design a new kindergarten for Churkin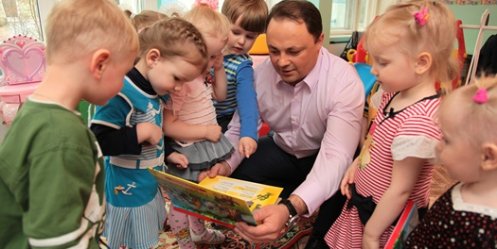 Photo: Administration of Vladivostok.

The head of Vladivostok Igor Pushkarev, commissioned experts to begin active work on the construction of a kindergarten in the street, Valentina Tereshkova, 5 (Churkin area). The mayor has set the task - to create a modern three-storey high garden for 240 children. And this month, the contractor shall have to begin designing a new kindergarten building.

At this place was once already kindergarten. But in the years preceding the demographic crisis of power it gave out, like many other buildings in pre-schools. Recall that if Beijing has lost more than 200 gardens. As a result, tenants have finished building on Tereshkova, 5 to failure and left it after the expiration of the contract.

By order of Igor Pushkarev building will be completely overhauled. In fact, the previous building will be only the foundation and walls. Garden will be one of the largest in the city and a welcome area for children Churkin.

"The most important task - to eliminate Vladivostok even such a thing as a place in a kindergarten. The parents should not have a headache, where to place a child to go to work, - Said the mayor Igor Pushkarev. - Therefore, we actively construct and reconstruct the gardens. Use all possible buildings and premises, often sue to recover its legitimate city kindergartens. Daily hard work in this direction has already produced good results - we cut all three. But we do not stop, continue to build gardens, until finally solve the problem. "

In addition, under the control of the mayor on the future construction of gardens fir and Sverdlov.

Recall the construction and reconstruction of kindergartens in the last four years have significantly reduced the queue. At the moment, all the children from 4 to 7 years and half of the children three years of age enrolled in a single electronic queue, go to preschool. Since the beginning of 2013 has opened two new kindergartens - "Forest Fairy Tale" on Ugryumova, 42 and the "Crane" on Sakhalin, 37a. Construction and repairs are carried out on Balyaeva, 48 Nekrasovskaya, 76 Neybuta, 47-b, Gulbinovicha, 4 and Makovsky, 201 Russian, 53.

13-05-2013, 09:20, eng news
The province night cloudy, light, sunny rain, cloudy day, sometimes a little rain. Wind south umerennyy.Temperatura air at night 0 +10 ° C, day +3 +20 ° C......

4-07-2013, 14:17, eng news
Здесь прошла пресс-конференция «Дети и наркотики». В ней приняли участие ряд ведущих специалистов края в данной области, среди которых А.В. Личковаха - уполномоченный при губернаторе Приморского края...
26-03-2013, 15:51, eng news
The duty of the police in Vladivostok last night it was reported that the street Ovchinnikov, 12 third entrance about a man in a jogging suit and flak jacket with wires in his hands scares passersby....

10-04-2013, 15:01, eng news
In the course of the next inspection staff Rosselkhoznadzor found in dairy products, red caviar, meat and meat preparations dangerous bacteria. The products found in Primorye dangerous bacteria...
4-05-2013, 16:20, eng news
Participants motorcycle clubs and bikers single for a few hours have gathered in the center to see people and be seen. (PHOTOS)......
23-05-2013, 11:20, eng news
Information service of Radio "Lemma" - News in the full range!......

5-03-2013, 06:00, eng news
Primorye residents owed tax of about 17 thousand rubles. The requirements to pay off debts man did not react, and the bailiff went to his home. The debtor would confiscate husky puppy Debtor was not...
17-05-2013, 12:20, eng news
Classes are held on weapons training in several training locations. The soldiers perform exercises target practice with machine guns, sniper rifles, anti-tank hand grenade and grenade launchers,...

19-09-2013, 11:16, eng news
Fire in Vladivostok on Birch Street on September 18 at 0054 in the remote Fire Department received a report of Vladivostok on fire in an apartment on Birch Street. After 6 minutes the place of fire...
21-06-2013, 22:30, eng news
This action was organized on the instructions of the head of Vladivostok Igor Pushkarev. Citizens will be able to write down their congratulations already today, June 21 from 18 to 20 hours. And from...