ЗНАКОМСТВА
КРАСОТА
ЗДОРОВЬЕ
ТУРИЗМ
АВТОНОВОСТИ
НОВОСТИ СПОРТА
Representation "poetic theater" in Vladivostok visit "last romantic" Russian-speaking poetry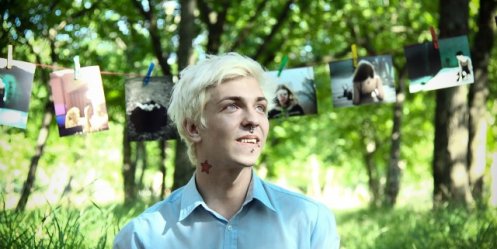 Photo: VKontakte.

April 22 in Vladivostok will host the second phase of the urban literary contest "Buzz ocean surf." In the role of a guest act "last romantic" Russian-language poetry Odessa EU Soybean.

Young poets Vladivostok finalists spent the City Literary Contest "Buzz ocean surf," will perform on stage with the EU soy. Five years ago, a sixteen-year Evgeny Stepanov began publishing his poems on the Internet, and now he's a poet-garde EU Soybean , Releases new book and visit with the performances of Russia and Europe.

As reported by IA Primore24 contest organizers, poetry reading will be held at the Theatre of Youth. " Why them? Just because I go through a competitive selection, which stated 160 participants, not so easy to " - They explained the choice of participants in the evening and recommended to anyone interested in contemporary poetry to come and see what is happening with their own eyes . " Will be many surprises, come and learn it yourself! " - Introduced himself to us the event, which will consist of poetic theater.

Concert begins "Buzz ocean surf" at 19:30. Admission fee - 300 rubles.

15-04-2013, 19:11, eng news
For shipping company "Roman" in the Primorye Territory in Bailiffs 40 execution proceedings. By decision of the Frunze district court of Vladivostok bailiffs must collect from the company 37 million...

5-09-2013, 18:01, eng news
Sentencing resident finds, staged a drunken brawl on the island of Russian. In July 2013 the inspectors of traffic police traffic police made out a traffic accident that happened on the island....

18-09-2013, 22:10, eng news
The group - 38 parents and 56 children, including toddlers 2012 and 2013 birth. It's free and residents of villages Grodekovo, Ust-Ivanivka, Upper and Chigiri Blagoveshchensk, Amur Region. In...

31-05-2013, 14:30, eng news
In a large freezer warehouse in Vladivostok Rosselkhoznadzor officers discovered 70 tons of silver salmon, shelf life has expired two months. Stale fish again found in Vladivostok This result gave an...

9-07-2013, 12:31, eng news
As the member of the Legislative Assembly of Alexander Bekhter, the construction of a fitness center was planned in the regional development program of physical education and sport, but because of...

15-04-2013, 19:00, eng news
A child cries attracted the attention of passers-by "mother."......
13-06-2013, 12:15, eng news
In the Vladivostok customs office organized a reception of documents for the issuance of targeted recommendations for admission on the day departments of the different departments of the Vladivostok...

9-09-2013, 04:42, eng news
As reported at the polling station number 736 located in the school number 67 at Zigure 52a, elections are no accidents and incidents - "You see that all of us quietly, no contingencies, all in...

4-09-2013, 01:46, eng news
Today in Vladivostok on the street Gulbinovicha opening of a new kindergarten "The Ship". The long-awaited kindergarten joins a number of pre-school institutions, the newly discovered and built the...
10-05-2013, 16:20, eng news
Concerning the arrested criminal case under part 1 of article 158 of the Criminal Code (theft). He faces a sentence of imprisonment for a term not exceeding two years......