ЗНАКОМСТВА
КРАСОТА
ЗДОРОВЬЕ
ТУРИЗМ
АВТОНОВОСТИ
НОВОСТИ СПОРТА
How to clean the streets, teach schoolchildren Vladivostok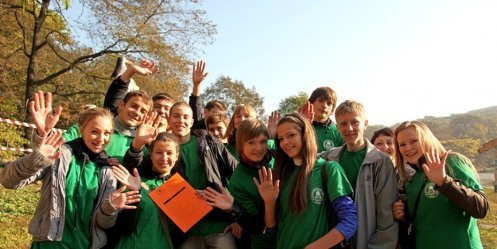 Photo: IA "Primore24"

The schools will be held in Vladivostok environmental lessons. In April, May and September of 2013 children will be taught the proper management of solid waste.

"The organization of separate collection and sorting, help in dealing with environmental issues in the city of Vladivostok," "The pollution of plastic bags and solutions" - sounds so formal themes for future sessions. In fact, children in an affordable and simple way to tell what a civilized selective garbage collection, why it is collected separately, as used in the future.

As part of the environmental lessons students will not only have to lecture, everyone can express their opinions. Moreover, the students are waiting for interesting creative workshops on "second life" of waste. Young citizens can try their hand at design and decorate their own writing out bags of cotton fabric. All materials for this will provide the organizers.

During the two months of spring all scheduled at least 50 lessons. They attend about 2000 students.

Environmental lessons in schools will be held in the framework of long-term program of Environmental Management and Nature Administration of Vladivostok "Improvement of waste management in the city of Vladivostok." Environmental education - this is one of its main objectives. Used packaging, bags, bottles, cans - all this is just a waste, these raw materials, which after processing can be used more, at least once. Today it is very important to change the attitude of each to the problem of waste disposal. For this new culture of MSW will now impart to the youth.

To take part in the campaign to apply. By phone or e-mail to contact us. Environmental lessons will be interesting to students of all ages. Information will be widely reported in the media. Unusual activity will be a good advertisement for your school. Participants invited all educational institutions of Vladivostok.

Learn more information about events, conditions of participation, you can apply for an advertising agency "Pacific Media" at Vladivostok, Ocean Avenue, 54 Suite 315 from 10:00 to 18:00 tel: 8 (423) 230-08-76 8 (423) 230-08-77 (Nadezhda Zhuravleva), e-mail: info@pmvl.ru ., Online vlc.ru, under Environment, as well as by e-mail: priroda@vlc.ru

17-08-2013, 17:15, eng news
Until the election of the head of Vladivostok, scheduled for Sept. 8 less than a month. To date, the registered candidates - nine. This is Andrew Andreychenko of Liberal Democratic Party - a resident...

10-09-2013, 02:41, eng news
TV broadcasting in analog format in Russia completely cease from 1 July 2018. Turning off the analog signal in the regions will take place as soon as available. As noted, before disabling the digital...

16-07-2013, 16:03, eng news
The contest is timed to the 75 th Anniversary of the region. Inhabitants of the region will be able to choose the seven best places and attractions of Primorye. In addition, anyone can upload a...

6-03-2013, 06:40, eng news
Vladivostok police took witness protection felony. The accused man had on the psychological pressure, and threatened to kill his family and demanded to give up reading. Witness in Primorye taken into...

25-04-2013, 11:10, eng news
Live radio "Lemma" the head of Vladivostok Igor Pushkarev shared the news: after a couple of months in the capital of Primorye will start a neighborhood football championship......

24-04-2013, 17:20, eng news
Electrical transport in Vladivostok goes to the municipality. This decision was made by the local Duma deputies at the next meeting on April 23. Electric transport goes to the municipality in this...

12-09-2013, 16:10, eng news
Rosselkhoznadzor specialists detained the party of pork from Spain, contaminated with E. coli. Poor quality meat is not missed in Primorye 24.6 tons of low-quality meat detained in the port of...
22-06-2013, 22:01, eng news
До конца текущей недели в сельских районах Приморского края появятся 8 модульных фельдшерско- акушерских пунктов, 9 ФАПов будет готово на следующей неделе. ФАПы устанавливают в Приморье Об...

13-08-2013, 17:31, eng news
Today, August 13 the mayor of Vladivostok Igor Pushkarev and the Consul General of India in Vladivostok Rakesh Pande held a courtesy meeting, during which the exchanged information about the...
26-06-2013, 16:31, eng news
In the duty of the inter-municipal department of the Russian Interior Ministry, "Savior," a man called and said that in an abandoned house on the street Partisan found the body of a minor boy with...