ЗНАКОМСТВА
КРАСОТА
ЗДОРОВЬЕ
ТУРИЗМ
АВТОНОВОСТИ
НОВОСТИ СПОРТА
How to clean the streets, teach schoolchildren Vladivostok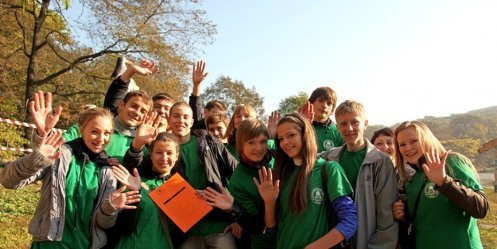 Photo: IA "Primore24"

The schools will be held in Vladivostok environmental lessons. In April, May and September of 2013 children will be taught the proper management of solid waste.

"The organization of separate collection and sorting, help in dealing with environmental issues in the city of Vladivostok," "The pollution of plastic bags and solutions" - sounds so formal themes for future sessions. In fact, children in an affordable and simple way to tell what a civilized selective garbage collection, why it is collected separately, as used in the future.

As part of the environmental lessons students will not only have to lecture, everyone can express their opinions. Moreover, the students are waiting for interesting creative workshops on "second life" of waste. Young citizens can try their hand at design and decorate their own writing out bags of cotton fabric. All materials for this will provide the organizers.

During the two months of spring all scheduled at least 50 lessons. They attend about 2000 students.

Environmental lessons in schools will be held in the framework of long-term program of Environmental Management and Nature Administration of Vladivostok "Improvement of waste management in the city of Vladivostok." Environmental education - this is one of its main objectives. Used packaging, bags, bottles, cans - all this is just a waste, these raw materials, which after processing can be used more, at least once. Today it is very important to change the attitude of each to the problem of waste disposal. For this new culture of MSW will now impart to the youth.

To take part in the campaign to apply. By phone or e-mail to contact us. Environmental lessons will be interesting to students of all ages. Information will be widely reported in the media. Unusual activity will be a good advertisement for your school. Participants invited all educational institutions of Vladivostok.

Learn more information about events, conditions of participation, you can apply for an advertising agency "Pacific Media" at Vladivostok, Ocean Avenue, 54 Suite 315 from 10:00 to 18:00 tel: 8 (423) 230-08-76 8 (423) 230-08-77 (Nadezhda Zhuravleva), e-mail: info@pmvl.ru ., Online vlc.ru, under Environment, as well as by e-mail: priroda@vlc.ru

15-07-2013, 23:46, eng news
July 152013 at Forest Cemetery in Vladivostok held a grand opening of the memorial to the victims nameless, 1937. Under the marble slabs in a mass grave found peace remains of more than 5000 people,...

25-04-2013, 13:10, eng news
The problem of expansion of synthetic drugs in the Primorsky Territory is particularly acute in the last two years......

20-03-2013, 11:34, eng news
Experience allows you to repair bridge builders, not blocking the main traffic on the bridge, it will be convenient for drivers......

10-04-2013, 16:50, eng news
By order of the head of Vladivostok Igor Pushkarev will scale works on cleaning and landscaping, which will cover all urban areas......
25-06-2013, 16:46, eng news
Today, the Council held in Khabarovsk in the Russian presidential envoy to the Far Eastern Federal District Viktor Ishayev. During the meeting, the participants discussed the draft translation...
18-06-2013, 14:30, eng news
Immigration officers believe the introduction of the visa regime for the citizens of the CIS is not relevant......

2-07-2013, 11:31, eng news
В субботу, 29 июня, на одном из перекрестков города Уссурийска произошел неприятный инцидент, связанный с применением оружия. Бесстрастное «око» видеорегистратора зафиксировало то, как люди, имеющие...
12-06-2013, 17:16, eng news
Today, 12 June, arrived in Vladivostok Jeff Хигс (Jeff Higgs) - multiple winner and prize-U.S. champion in Brazilian JIU-jitsu. Jeff Хигс is a representative СОRONADO Jiu-Jitsu Brasileiro Academy of...

5-04-2013, 02:30, eng news
Today Statistics 9 of 10 books downloaded illegally, which, according to the participants, causing damage to the industry of $ 3-4 billion rubles......

5-04-2013, 03:40, eng news
At the meeting held on 4 April Primorye administration with Vice-Governors and experts of the regional department, Vladimir Miklushevsky asked the officials to announce the results of the inspection...