ЗНАКОМСТВА
КРАСОТА
ЗДОРОВЬЕ
ТУРИЗМ
АВТОНОВОСТИ
НОВОСТИ СПОРТА
How to clean the streets, teach schoolchildren Vladivostok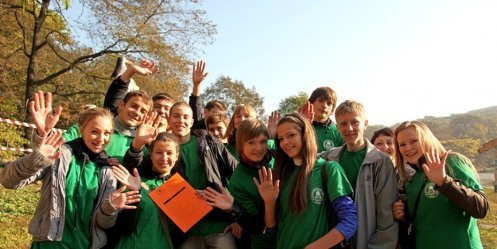 Photo: IA "Primore24"

The schools will be held in Vladivostok environmental lessons. In April, May and September of 2013 children will be taught the proper management of solid waste.

"The organization of separate collection and sorting, help in dealing with environmental issues in the city of Vladivostok," "The pollution of plastic bags and solutions" - sounds so formal themes for future sessions. In fact, children in an affordable and simple way to tell what a civilized selective garbage collection, why it is collected separately, as used in the future.

As part of the environmental lessons students will not only have to lecture, everyone can express their opinions. Moreover, the students are waiting for interesting creative workshops on "second life" of waste. Young citizens can try their hand at design and decorate their own writing out bags of cotton fabric. All materials for this will provide the organizers.

During the two months of spring all scheduled at least 50 lessons. They attend about 2000 students.

Environmental lessons in schools will be held in the framework of long-term program of Environmental Management and Nature Administration of Vladivostok "Improvement of waste management in the city of Vladivostok." Environmental education - this is one of its main objectives. Used packaging, bags, bottles, cans - all this is just a waste, these raw materials, which after processing can be used more, at least once. Today it is very important to change the attitude of each to the problem of waste disposal. For this new culture of MSW will now impart to the youth.

To take part in the campaign to apply. By phone or e-mail to contact us. Environmental lessons will be interesting to students of all ages. Information will be widely reported in the media. Unusual activity will be a good advertisement for your school. Participants invited all educational institutions of Vladivostok.

Learn more information about events, conditions of participation, you can apply for an advertising agency "Pacific Media" at Vladivostok, Ocean Avenue, 54 Suite 315 from 10:00 to 18:00 tel: 8 (423) 230-08-76 8 (423) 230-08-77 (Nadezhda Zhuravleva), e-mail: info@pmvl.ru ., Online vlc.ru, under Environment, as well as by e-mail: priroda@vlc.ru

8-07-2013, 13:30, eng news
For the first 6 months of this year, total passenger traffic increased by 14%......
6-05-2013, 10:20, eng news
Since 1992 this is the twelfth visit to Vladivostok, French sailors and the sixth set at the main base of the Pacific Fleet frigate "Vendemiaire."......

12-08-2013, 00:01, eng news
August 10 at 4:26 am on the panel of Vladivostok City Fire Department received a report of a fire at Calle Chasovitin 27. immediately on the scene were sent firefighters calculations. Upon arrival...
23-05-2013, 09:20, eng news
In Primorye, sometimes a little rain, rain in the afternoon. Wind southwest in the afternoon moderate. Day temperature +14 +29 ° C......

17-04-2013, 19:20, eng news
Today at a meeting of the Vladivostok Duma Committee on Social Policy and Veterans Affairs. During the meeting, the deputies discussed the critical situation in Vladivostok with preferential drug...
4-06-2013, 15:30, eng news
Competition among prisoners and the contest of clothes will be in the IR-10......

5-08-2013, 15:15, eng news
Deputy Prime Minister Olga Golodets will head the board of trustees of the theater of opera and ballet in Vladivostok. This decision was made deputy prime minister after his visit to Primorye. Deputy...

7-08-2013, 17:30, eng news
More than 400 thousand rubles of damage from fiddling with the air tickets, which accused the former head of the department of international military cooperation of the Pacific Fleet headquarters...

1-04-2013, 06:10, eng news
Dalnerechensky Interdistrict Prosecutor's Office defended the rights of 93-year-old widow of a veteran of World War II......

7-08-2013, 13:02, eng news
He said that at night through a window in the house and entered the unknown stole personal belongings: two laptops, a buffer with speakers, mobile phone and a guitar. The damage caused to the victim...