ЗНАКОМСТВА
КРАСОТА
ЗДОРОВЬЕ
ТУРИЗМ
АВТОНОВОСТИ
НОВОСТИ СПОРТА
To build a "big BAM" railroad will spend 562 billion rubles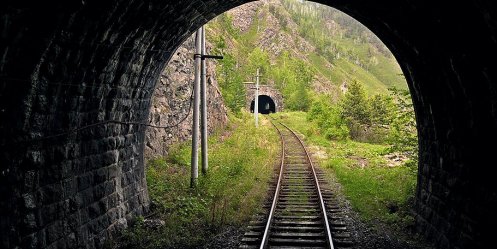 Photo: kommersant.ru

JSC "Russian Railways" will direct the development of infrastructure of the Far Eastern region 562 billion rubles. in the next 5 years. According to the general plan of development submitted to the railway network investment will be spent on expanding capacity of BAM and Transsib. It is assumed that the capacity of highways will increase by 25 million tonnes of cargo per year. Read the full in "Kommersant. Vladivostok" .

Market participants and analysts are generally positive about plans monopoly, but we believe that without a comprehensive development of the regional infrastructure rely on the multiplier effect of the investment is not worth it.

Russian Railways presented a refined general scheme of the rail network by 2020 According to the press center of the company, the document suggests that the size of the investment required in the infrastructure monopoly Far East until 2018 is 562 billion rubles. Railways are themselves able to fund only 302 billion rubles and 260 billion rubles offered to draw from private investors.

3-09-2013, 01:45, eng news
Today, September 2 Vladivostok was a series of festive events dedicated to the end of World War II. Themed events began with the laying of flowers at the stele "Vladivostok - a city of military...

18-03-2013, 11:54, eng news
The famous novelist, who served ten years in the Northern Fleet, about three o'clock spoke to students Palo......

18-05-2013, 11:20, eng news
The Dodgers played the "Forex" using money from unsuspecting clients, but came the day when return the money with interest, they just had enough......

19-09-2013, 19:04, eng news
The volume of harvested vegetables in the agricultural enterprises of Primorye to date than last year. Harvest in Primorye more than last year, reported director of the Department of Agriculture and...

8-03-2013, 11:05, eng news
Everybody can buy cute gifts and handmade souvenirs that are produced students of social organization, "Good work." (PHOTOS)......

15-04-2013, 14:00, eng news
Human rights defenders do not lose hope to save the fair name of retired officers, while prosecutors are hoping to land him for the offense......

23-04-2013, 18:20, eng news
Today in Vladivostok held the opening ceremony of the new Mazda 6 production. The ceremony at the plant «Sollers» took part Primorye Governor Vladimir Miklushevsky. Issue 6 Mazda began in Primorye...

16-05-2013, 10:20, eng news
Employees told drug enforcement recruits spring draft of the legal, medical and social consequences of drug use......

17-09-2013, 21:44, eng news
Round table on "Current state and prospects of development of small business in the Far Eastern Federal District" was held in Vladivostok. The event was attended by Vice-President of OAO "Sberbank of...

16-04-2013, 13:00, eng news
The victim with brain concussion was taken to "tysyachekoechnuyu" hospital......