ЗНАКОМСТВА
КРАСОТА
ЗДОРОВЬЕ
ТУРИЗМ
АВТОНОВОСТИ
НОВОСТИ СПОРТА
Putin after leaving politics is going to do literature and public projects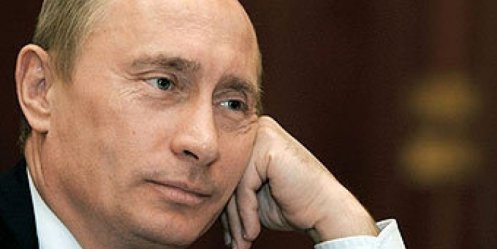 Photo: mosaica.ru

Russian President Vladimir Putin said at the end of his political career, he would like to do the jurisprudence, literature, sports, or community projects, BBC Russian Service reports .

"I like really, I love literature, and I very much hope that I can do without the specific reference to state work these problems, maybe some other - social, sports and so on," - Putin said in an interview with German television and radio ARD.

According to Putin, who first became president of Russia on 31 December 1999 "every normal person always looks for a horizon."

"And I'm not the biggest survivor in politics. In European politics, there are people who are much more than I took first place and worked longer hours than I work now - both in Europe and in North America, by the way, in Canada," . - Putin said.
18-06-2013, 13:46, eng news
The prosecutor's office checked the legality of the actions of Nakhodka Branch Dalenergosbyta of "DEK". The basis of the test laid down treatment gardeners gardening non-profit association "Green...

23-05-2013, 21:20, eng news
The acting head of Vladivostok Igor Pushkarev today, May 23 and won the final victory in the inner-bezgovorochnuyu voting for a particular candidate for mayor of the "United Russia". Today, he scored...

14-03-2013, 10:32, eng news
Investigators in Vladivostok criminal case against 22-year-old boy. Within two months, he hunted stealing laptops in dorm Maritime University. Laptop thief arrested in Vladivostok A former high...

16-07-2013, 15:45, eng news
July 14 about half past eleven on duty search and rescue team in Vladivostok received a message from the captain of the boat CP-25 that his boat with four passengers on board lost speed at Cape...

17-08-2013, 17:30, eng news
Prosecutor's Office of the Leninsky district of Vladivostok revealed numerous violations in the activities of subordinate Far Eastern Branch of the Russian Academy of Sciences institutions using...
10-06-2013, 16:46, eng news
Brigade of the municipal enterprise «Roads of Vladivostok» continue to work on updating the markings on the city highways. Last weekend on the streets of Russian dealt a double solid and dashed...

29-08-2013, 15:00, eng news
On Wednesday, August 28 around 9:00 am on the 106 kilometer highway Vladivostok - Nakhodka - Port East has been a serious accident. Car Toyota Vista, driven by a 25-year-old boy drove into oncoming...

5-09-2013, 11:45, eng news
September 8th elections will be held in Vladivostok mayor. At a number of polling stations will be cultural events. On a makeshift stage will creative teams - vocal and dance - children's art schools...

9-09-2013, 04:42, eng news
September 72013 the day of the overflow water through the dam in the village of Mendeleev, Komsomolsk-on-Amur Siberian regional rescue search and rescue team conducted a unique operation to evacuate...

6-03-2013, 08:05, eng news
Appendix "Record Manager" has helped representatives of "Construction and assembly company" NEVADI "to register your business......