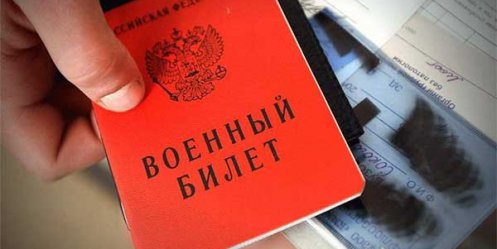 Photo: cgnf.ru

The Ministry of Defence has offered to issue a certificate evaded army instead of military record after reaching age 27. This was reported by "Interfax" an unnamed source in the Defense Ministry .

The certificate will be notified that a person is registered on the military as not pass military service without good reason. Currently, the Ministry of Defense considers relevant amendments to the federal law "On Military Duty and Military Service", he added.

The authors of the initiative, a certificate must be "blacklisted" from evading an army of citizens will be harder to get a job, not only in government but also in businesses.

Defense has not officially declared the introduction of such measures. At the same time, an anonymous source "Russian newspaper" the General Staff said that he heard nothing about preparing amendments and that they do not make sense. According to the official publication, now citizens, who 27 years hiding from the military offices, get your hands on virtually empty military ID. It marks not on service or rejection, and any hiring manager, the newspaper will be able to find on such a ticket evaders.

In 2012 the Duma passed the first reading of a bill that prohibits evaded conscription work in public service. Currently, the draft amendments are accepted, with whom he goes to a second reading in the lower house of the Russian parliament.

General Staff of the Ministry of Defence in March 2013 reported on the results of the call for the last year. It was reported that military service declined 250000 Russian citizens. Of these, 236000 young people have not received the summons, and even 9000 did not appear at the appointed time to the recruiting station.

April 12013 kicked off the spring conscription, which runs until July 15. All within the framework of this call to the troops planned to be 153000 people. Previous autumn call was made on 96 percent.