ЗНАКОМСТВА
КРАСОТА
ЗДОРОВЬЕ
ТУРИЗМ
АВТОНОВОСТИ
НОВОСТИ СПОРТА
Veterans of Vladivostok on May 9 will receive cash gifts from the mayor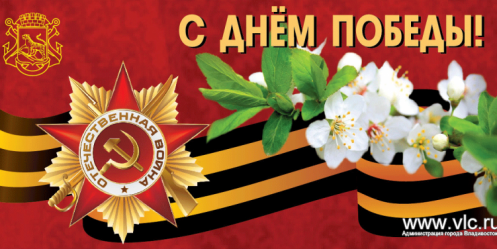 The Victory Day Mayor Igor Pushkarev ordered to prepare for the participants and invalids of the Great Patriotic War, not only greetings, and gifts of money.
Since 1180 members and disabled veterans will receive a birthday card from the mayor and 3000 rubles. In addition, this year, Igor Pushkarev ordered to organize a large-scale and colorful celebration of the Victory Day. Head of the city set a target to bring in the celebration as much as possible of citizens and veterans - to create a cozy atmosphere in which no one of them is sick, got a pleasant experience, recalled with pleasure his youth.
To date, almost all the events are ready to celebrate the 68th anniversary of the Victory in the Great Patriotic War. Next week, the mayor Igor Pushkarev intends to personally conduct the organizing committee for the celebration of May 9 at which representatives of the Pacific Fleet, veterans organizations and experts will report on the administration of the city ready for the victory parade and a number of other events, including a completely new for Vladivostok.

13-05-2013, 09:20, eng news
The province night cloudy, light, sunny rain, cloudy day, sometimes a little rain. Wind south umerennyy.Temperatura air at night 0 +10 ° C, day +3 +20 ° C......

4-07-2013, 14:17, eng news
Здесь прошла пресс-конференция «Дети и наркотики». В ней приняли участие ряд ведущих специалистов края в данной области, среди которых А.В. Личковаха - уполномоченный при губернаторе Приморского края...
26-03-2013, 15:51, eng news
The duty of the police in Vladivostok last night it was reported that the street Ovchinnikov, 12 third entrance about a man in a jogging suit and flak jacket with wires in his hands scares passersby....

10-04-2013, 15:01, eng news
In the course of the next inspection staff Rosselkhoznadzor found in dairy products, red caviar, meat and meat preparations dangerous bacteria. The products found in Primorye dangerous bacteria...
4-05-2013, 16:20, eng news
Participants motorcycle clubs and bikers single for a few hours have gathered in the center to see people and be seen. (PHOTOS)......
23-05-2013, 11:20, eng news
Information service of Radio "Lemma" - News in the full range!......

5-03-2013, 06:00, eng news
Primorye residents owed tax of about 17 thousand rubles. The requirements to pay off debts man did not react, and the bailiff went to his home. The debtor would confiscate husky puppy Debtor was not...
17-05-2013, 12:20, eng news
Classes are held on weapons training in several training locations. The soldiers perform exercises target practice with machine guns, sniper rifles, anti-tank hand grenade and grenade launchers,...

19-09-2013, 11:16, eng news
Fire in Vladivostok on Birch Street on September 18 at 0054 in the remote Fire Department received a report of Vladivostok on fire in an apartment on Birch Street. After 6 minutes the place of fire...
21-06-2013, 22:30, eng news
This action was organized on the instructions of the head of Vladivostok Igor Pushkarev. Citizens will be able to write down their congratulations already today, June 21 from 18 to 20 hours. And from...