ЗНАКОМСТВА
КРАСОТА
ЗДОРОВЬЕ
ТУРИЗМ
АВТОНОВОСТИ
НОВОСТИ СПОРТА
Environmental game "What-Where-When?" held in Vladivostok in mid-April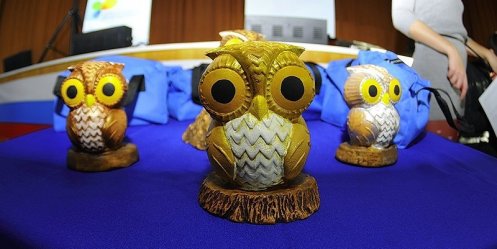 Annual environmental game "What? Where? When "will be held May 15 at the hotel" Equator ". The tournament is open to school and college students.
The event was held at the Office of Environmental Protection and Natural Resource Administration of Vladivostok in the long-term program "Improving waste management in the city of Vladivostok" in 2012-2015.
Twelve teams of six people each, will compete in the environmental erudition, be smart in finding answers to complex questions. These games allow young people to instill interest in nature and learn to assess the environmental risks in everyday life.
Entries to the competition are accepted until May 10 in writing, to: Vladivostok, Ocean Avenue, 54 office 315 from 1000 to 1800 or by email info@pmvl.ru. For more information call: 8 (423) 230-08-77 8 (423) 230-08-76 8 (423) 230-22-77.

20-08-2013, 14:02, eng news
As reported in the administration of the National Park "Land of Leopard", among the proposed names - Blonde, Centurion, Tishka White, Leopold. Recall share carries FGBU "Land of Leopard". Employees...

15-04-2013, 13:10, eng news
In Primorye, in Artem arrested two teenage boys suspected in a series of robberies - reported VestiRegion.ru spokesman SVR MOI of Russia for the Primorye Territory Nina Mamrak. Juvenile burglars...

12-07-2013, 20:47, eng news
Today in Vladivostok held a master class in Chinese cooking festival of culture and cuisine of the north-eastern Asia. The event, organized by the department of international cooperation and tourism...
6-08-2013, 15:00, eng news
As RIA «VladNews» witnesses from the scene, the accident occurred around 9:00 am. At the scene, police officers were on duty, DPS and "ER." The number of victims has not been reported, although there...

16-08-2013, 22:30, eng news
In Vladivostok, continuing the festival "Days of Latin America." Last night, in a crowded harbor promenade Sports held its colorful opening, which was accompanied by rousing rhythms of one of the...

7-05-2013, 15:30, eng news
Tuesday, May 7 the main base of the Pacific Fleet under the command of Captain Scott's second rank Makklelenda an unofficial visit to the U.S. Navy guided missile destroyer "Lassen". According...

29-05-2013, 12:33, eng news
On Friday, May 31 at 17:00 in Vladivostok at the site near the Youth House will host the opening of the summer working semester student teams of Vladivostok. From that day, counselors, guides,...
24-05-2013, 19:30, eng news
Chinese field workers to fertilize fields used banned pesticides. This fact is revealed Rosselkhoznadzor employees. The Chinese have poisoned by pesticides in Primorye residents against «Willow" is...
5-06-2013, 20:00, eng news
In the seaside town of Artyom company "Special SU" will overhaul the city roads. The company won the auction and after the 10 days required for documents, will lead the road in order. Artem roads...

9-07-2013, 12:16, eng news
For Primorye suffering from cardiovascular diseases, came another batch of soft drugs. The party received free medicines in Primorye Preparations have already arrived at the warehouse, and within a...