ЗНАКОМСТВА
КРАСОТА
ЗДОРОВЬЕ
ТУРИЗМ
АВТОНОВОСТИ
НОВОСТИ СПОРТА
Citywide fairs in the central square of Vladivostok resumed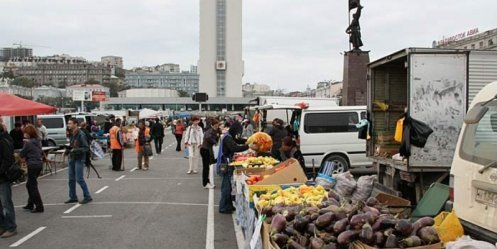 Photo: Administration of Vladivostok.

With the onset of spring and summer season in Vladivostok resumed food fair in the area of Fighters Revolution. As noted in the management of Trade and Services Administration of Vladivostok, fairs are held in order to saturate the consumer market for agricultural products and products of local manufacturers, creating conditions for healthy competition in prices.

Citywide Fair will run on the central area weekly on Fridays and Saturdays from 9 to 18 hours. The first fair of the season will take place tomorrow - April 5.

Vladivostok Administration invites you to participate in the fair legal entities and individual entrepreneurs registered in accordance with applicable Russian legislation, citizens, the leading country (farmer), personal and household plots.

For more information, contact the Department of Agriculture and Fisheries of the Department of Trade and Services, tel: (423) 261447926144412614442.

3-07-2013, 20:30, eng news
The purported reason for the fire - carelessness with smoking. On Wednesday, July 31341 to the control Vladivostok City Fire Department received a report of a fire in an apartment in a five-story...

12-08-2013, 16:16, eng news
Territory Governor Vladimir Miklushevsky decided to provide financial assistance to residents of mountain springs, whose houses were damaged on the eve of the strong wind. The debtor failed to...
21-05-2013, 17:30, eng news
Employees Rosselkhoznadzor at the railway station "Coal" in Vladivostok found a container of the western regions of Russia with chicken meat of dubious quality. Questionable chicken found in Primorye...

24-08-2013, 16:45, eng news
In a statement published on the website of the department on Friday, says that in such a tragic for many people in the affected regions moment it would be appropriate to credit institutions do not...

22-07-2013, 19:32, eng news
Wanted polite, neat, experienced drivers with no bad habits. For you - a stable operation at excellent transportation, social security, decent wages! Drivers are provided uniforms. Call! Tel:...

10-04-2013, 17:50, eng news
This year, take the exam in Vladivostok will graduate in 2504. To obtain a high school diploma high school students must pass the Russian and mathematics. (Address)......

12-09-2013, 23:52, eng news
"Luch-Energia" and "Dynamo" St. Petersburg agreed to postpone the match of the 16th round of Championship First Division. The game will take place in St. Petersburg on September 30 October 1 and not,...
6-05-2013, 13:30, eng news
Maritime Administration in February of this year to develop a plan - "road map", according to which the salary of state until 2018 will be increased in stages. Wages will rise gradually in the first...

7-03-2013, 04:57, eng news
8 and 9 March in Vladivostok will open chess tournament for students, dedicated to the 85th anniversary of the national teacher of the USSR Nikolai Dubinin......

19-08-2013, 18:46, eng news
Administration of Primorsky Territory to decide whether to change the status of the closed administrative-territorial formation of Bolshoi Kamen. As RIA «VladNews» the press service of the...