ЗНАКОМСТВА
КРАСОТА
ЗДОРОВЬЕ
ТУРИЗМ
АВТОНОВОСТИ
НОВОСТИ СПОРТА
Citywide fairs in the central square of Vladivostok resumed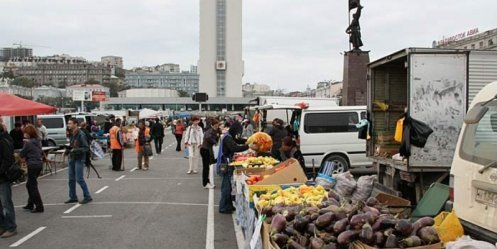 Photo: Administration of Vladivostok.

With the onset of spring and summer season in Vladivostok resumed food fair in the area of Fighters Revolution. As noted in the management of Trade and Services Administration of Vladivostok, fairs are held in order to saturate the consumer market for agricultural products and products of local manufacturers, creating conditions for healthy competition in prices.

Citywide Fair will run on the central area weekly on Fridays and Saturdays from 9 to 18 hours. The first fair of the season will take place tomorrow - April 5.

Vladivostok Administration invites you to participate in the fair legal entities and individual entrepreneurs registered in accordance with applicable Russian legislation, citizens, the leading country (farmer), personal and household plots.

For more information, contact the Department of Agriculture and Fisheries of the Department of Trade and Services, tel: (423) 261447926144412614442.

23-07-2013, 22:16, eng news
Today, after long flights and journeys, in the Theater square of Vladivostok landed at the amphitheater monument to Vladimir Vysotsky. The iconic musician is ready to accept residents. "At this point...

11-07-2013, 17:15, eng news
Year-old boy in the seaside village Horol injured in road accidents caused by her grandmother. The kid took off in Primorye phalanx elderly woman sat on the baby's routine moped, distracted, the boy...
29-05-2013, 12:32, eng news
The Department of Education and Science of the Primorsky Territory conducts official investigation for violations related to the use of mobile phones and the Internet at the time the Unified State...

6-09-2013, 18:31, eng news
Diesel-electric icebreaker "Admiral Makarov" Far Eastern Shipping Company has successfully completed an operation to rescue the crew of a French catamaran «Babouchka», wrecked in the Arctic Ocean 460...

22-09-2013, 16:04, eng news
26-year-old resident of Vladivostok took from his own grandmother's gold chain. With respect to the suspect remanded in the form of restriction. As the press service of the Ministry of Internal...

23-08-2013, 22:01, eng news
C on August 23 in the administration of their own accord retired deputy head of the administration of the city of Vladivostok Alexey Litvinov. This RIA «PrimaMedia». As the first vice-mayor Alex...

17-09-2013, 05:01, eng news
As the press service of the State Ministry of Interior Far Eastern Federal District, it is about theft of more than 9.5 million rubles at the conclusion of the imaginary transaction for the supply of...

28-07-2013, 16:18, eng news
The situation in the south of Primorye reservoirs stabilized. According to Acting Director of the State Unitary Enterprise "Primorsky Vodokanal" Yuri Gurtyakov, now completely stopped dumping water...

19-03-2013, 12:30, eng news
Publication of a history book was supported by the head of Vladivostok Igor Pushkarev (PHOTO)......

4-03-2013, 11:08, eng news
The next city, which will host the Pre-Olympic exhibition of the "Art of being first," will Khabarovsk......