ЗНАКОМСТВА
КРАСОТА
ЗДОРОВЬЕ
ТУРИЗМ
АВТОНОВОСТИ
НОВОСТИ СПОРТА
Ussuriisk rusty because anti-tank missiles were evacuated house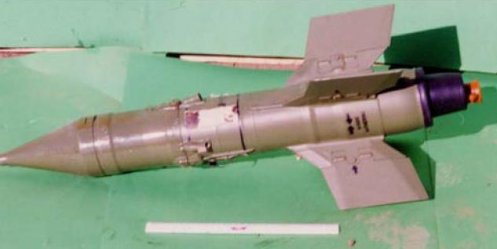 Photo: topwar.ru

In Ussuriysk near the house on the street of Leningrad about 11 hours today found object similar to anti-tank guided missile (ATGM), the tenants were immediately evacuated - they were allowed to take only the documents and warm clothes.

As reported to the police department of IA Primore24 Ussuriysk item found is not recognized - he was very rusty, no markings on it is not visible. Dangerous find seized military engineers. Now the police find out - how the shell was in the immediate vicinity of the house.

26-04-2013, 12:30, eng news
Preparing fountains began on April 12. Then they were filled with special means to prevent rust. Fountain is going to run on May 1. (PHOTOS)......

7-08-2013, 13:01, eng news
August 6 at the Frunze district court of Vladivostok announced a guilty verdict against Mr. citizen, is accused of attempted corruption offense. Some time ago she was trying to give a bribe of 500000...
29-07-2013, 18:30, eng news
The closer the election, the more there are around all sorts of innuendo. The next election "a point of conflict" almost became Kavalerovsky area. There decision of the Duma Kavalerovsky municipal...

7-03-2013, 07:50, eng news
For the project was allocated 40 million rubles. The main function of the Centre - supporting student ideas......
19-06-2013, 18:15, eng news
With the proposal to appoint the date on September 8 addressed Mikhail Veselov, Chairman of the Committee on local self-government, law and order and legality. The MP explained that the proposed date...
28-06-2013, 16:45, eng news
The most common scams are associated with resource use mobile communication. The outreach police caught representatives of Public Council at OMVD Russia in the city of Nakhodka, the Chairpersons of...
27-06-2013, 16:31, eng news
All the basic elements of the building are Packed in special containers that are easy to transport. As the Deputy General Director of company «Canyon» Vitaly Prilipko, in the near future design will...

11-07-2013, 11:48, eng news
"The situation is not an emergency or conflict", - he said, commenting on the protests from the European members of the World Trade Organization (WTO) against the introduction of Russian utilization...

27-05-2013, 12:30, eng news
The main topic of the next meeting was the implementation of the project of construction of economy class. It was attended by Governor of the Primorsky Territory Vladimir Miklushevsky. Primorye will...

26-07-2013, 13:45, eng news
Gorki Theater Theatre on vacation. The opening of the season - in September. YOUTH THEATRE Evening performances. July 27 - "Bluff" July 28 - "Family Portrait with banknotes" (16 +), start at 1800....