ЗНАКОМСТВА
КРАСОТА
ЗДОРОВЬЕ
ТУРИЗМ
АВТОНОВОСТИ
НОВОСТИ СПОРТА
Two Russian tourists in Thailand arrested robbers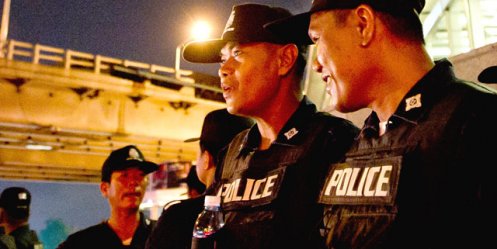 Photo: 24inf.ru

Two Russians during the holiday in Thailand detained a member of the gang, whose members are simulated accident and stole money from them, Interfax reported citing local media .

The incident took place in Pattaya in the night from Tuesday to Wednesday. 24-year-old Russian woman was walking with a friend on the beach. They noticed two local residents who were near their motorcycles and went to ask, not if they needed help. Suddenly, two other men who were there, stripped of Russians bag. Then four Thais tried to escape.

Other victims managed to detain one of the thieves. He was taken to a police station. Arrested at 26-year-old Hong Sakdar who previously prosecuted for drugs. He confirmed that the robbery plan was devised specifically to divert the attention of tourists.

Now police are looking for accomplices Sakdara who managed to escape. According to police, the Russians could not be the first to suffer from the actions of this gang.

15-04-2013, 19:11, eng news
For shipping company "Roman" in the Primorye Territory in Bailiffs 40 execution proceedings. By decision of the Frunze district court of Vladivostok bailiffs must collect from the company 37 million...

5-09-2013, 18:01, eng news
Sentencing resident finds, staged a drunken brawl on the island of Russian. In July 2013 the inspectors of traffic police traffic police made out a traffic accident that happened on the island....

18-09-2013, 22:10, eng news
The group - 38 parents and 56 children, including toddlers 2012 and 2013 birth. It's free and residents of villages Grodekovo, Ust-Ivanivka, Upper and Chigiri Blagoveshchensk, Amur Region. In...

31-05-2013, 14:30, eng news
In a large freezer warehouse in Vladivostok Rosselkhoznadzor officers discovered 70 tons of silver salmon, shelf life has expired two months. Stale fish again found in Vladivostok This result gave an...

9-07-2013, 12:31, eng news
As the member of the Legislative Assembly of Alexander Bekhter, the construction of a fitness center was planned in the regional development program of physical education and sport, but because of...

15-04-2013, 19:00, eng news
A child cries attracted the attention of passers-by "mother."......
13-06-2013, 12:15, eng news
In the Vladivostok customs office organized a reception of documents for the issuance of targeted recommendations for admission on the day departments of the different departments of the Vladivostok...

9-09-2013, 04:42, eng news
As reported at the polling station number 736 located in the school number 67 at Zigure 52a, elections are no accidents and incidents - "You see that all of us quietly, no contingencies, all in...

4-09-2013, 01:46, eng news
Today in Vladivostok on the street Gulbinovicha opening of a new kindergarten "The Ship". The long-awaited kindergarten joins a number of pre-school institutions, the newly discovered and built the...
10-05-2013, 16:20, eng news
Concerning the arrested criminal case under part 1 of article 158 of the Criminal Code (theft). He faces a sentence of imprisonment for a term not exceeding two years......