ЗНАКОМСТВА
КРАСОТА
ЗДОРОВЬЕ
ТУРИЗМ
АВТОНОВОСТИ
НОВОСТИ СПОРТА
Two Russian tourists in Thailand arrested robbers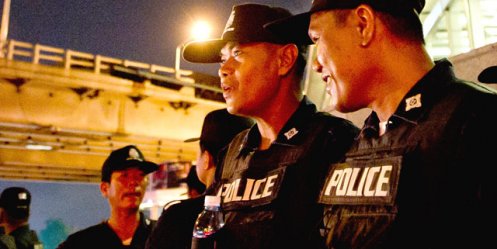 Photo: 24inf.ru

Two Russians during the holiday in Thailand detained a member of the gang, whose members are simulated accident and stole money from them, Interfax reported citing local media .

The incident took place in Pattaya in the night from Tuesday to Wednesday. 24-year-old Russian woman was walking with a friend on the beach. They noticed two local residents who were near their motorcycles and went to ask, not if they needed help. Suddenly, two other men who were there, stripped of Russians bag. Then four Thais tried to escape.

Other victims managed to detain one of the thieves. He was taken to a police station. Arrested at 26-year-old Hong Sakdar who previously prosecuted for drugs. He confirmed that the robbery plan was devised specifically to divert the attention of tourists.

Now police are looking for accomplices Sakdara who managed to escape. According to police, the Russians could not be the first to suffer from the actions of this gang.
19-06-2013, 18:15, eng news
Concerning the suspect criminal case according to article 158 of the criminal code (Theft). The duty of the Department of the interior Ministry of Russia Хасанскому district received a statement...
22-06-2013, 12:45, eng news
«According to the combined index of urban development, he took 5th place from 21 improving its score by 8 positions compared to last year. According to the residents participating in the survey, more...
4-04-2013, 06:40, eng news
Establish the circumstances of accident......

3-09-2013, 15:46, eng news
Former commander of the company of a battalion police control of private security to stand trial in Vladivostok. Police officer to be tried for bribery He is accused of abuse of office and bribery....

11-03-2013, 03:10, eng news
But they are wary approach to projects and small distributed power in the Russian Far East,......

16-09-2013, 13:50, eng news
For the past day in the Primorsky Territory there were 11 fires, killed and injured there. In the elimination of fire involved 104 people and 29 vehicles. 11 fires occurred in Primorye per night...
19-06-2013, 13:32, eng news
In the head office of Sberbank of the delegation of The Bank of New York Mellon (USA)headed by Sergey Kotov, managing Director, head of region Eastern Europe, handed to Sberbank «Award in recognition...

29-04-2013, 12:00, eng news
May 1 expedition will be on-site, overloading received food and other goods from containers in the bag......

1-03-2013, 09:44, eng news
Agency workers were not able to explain the cause of contamination of premises where children are present......

30-03-2013, 09:00, eng news
Mazda driver lives paid for leaving the "oncoming", and five in no way guilty of people were in the hospital......