ЗНАКОМСТВА
КРАСОТА
ЗДОРОВЬЕ
ТУРИЗМ
АВТОНОВОСТИ
НОВОСТИ СПОРТА
Road builders took up the road to the lighthouse Tokarevskiy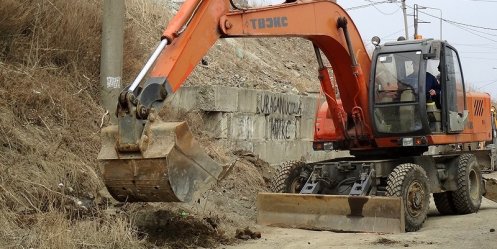 Municipal Enterprise "Roads of Vladivostok" started the reconstruction of the road passing through the streets Tokarevskiy Lighthouse and Tokarevskaya Cat.
Road builders started preparing the roadbed for future devices pavement layers. The object came machinery - excavators, loaders and dump trucks.
According to records, after the installation of gravel base will be laid two layers of asphalt and a layer of wear. The top layer will be of schebenochnomastichnogo asphalt, which has better performance than conventional asphalt, and thus extending the life of the road. Such coatings are used in the reconstruction of the road from the station to the Sanatorium railway crossing near the station "Postyshev" as well as on the new highway "pos.Novy - De Vries - Sedanka - b. Patroclus. "

19-03-2013, 10:32, eng news
From the City Administration to lay flowers and wreaths to the Eternal Flame went Igor Pushkarev (PHOTO)......

27-04-2013, 13:50, eng news
Operating at Protection deputies cleared the park area from last year's leaves, dug up and prepared for planting flowers beds, painted curbs and benches......

31-08-2013, 20:15, eng news
Applications submitted by volunteers from 140 countries, including the U.S., China, Brazil, India, Russia, United Kingdom, Philippines, according to a press release of the project Mars One....

29-05-2013, 14:31, eng news
These days in South Korea is hosting an international investment exhibition. Projects presented at the Maritime investment exhibition in the prestigious event and participate Primorsky Krai....

8-08-2013, 13:33, eng news
Journey lasted from May 2012 to July 2013. Cover «SOS Sailor" - a joint project with Mummy Troll Belgian artists Leroy Brothers and their interactive service «Witness Your World», giving any user...

17-04-2013, 19:20, eng news
From 23 to 26 May in the seaside town of Artyom comes a team of doctors from South Korea. Korean doctors advise residents Artem Organization "Green Doctor", which included 27 people, including 9...
28-05-2013, 16:20, eng news
After the rain will stop and look out the sun will begin to gradually increase the temperature background. In the capital of Primorye until the end of the work week is expected before the seven-plus...

8-09-2013, 14:50, eng news
Maternity house number 2 in Vladivostok (former fifth hospital) opened a polling station. Their right to leave the voice for one of the nine candidates for mayor of the seaside capital took advantage...

28-05-2013, 16:20, eng news
The county is recommended to analyze the performance of the regional healthcare modernization programs over the past year and consider the prospects for 2012-2013......

17-09-2013, 13:59, eng news
Ministry of Emergency Situations in the Khabarovsk region reports, as of 8 am, the water level in the city of Komsomolsk-on-Amur was 904 cm During the day the water level dropped by 5 centimeters....