ЗНАКОМСТВА
КРАСОТА
ЗДОРОВЬЕ
ТУРИЗМ
АВТОНОВОСТИ
НОВОСТИ СПОРТА
Road builders took up the road to the lighthouse Tokarevskiy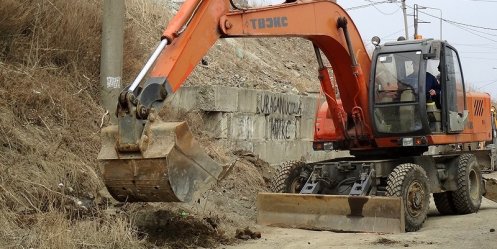 Municipal Enterprise "Roads of Vladivostok" started the reconstruction of the road passing through the streets Tokarevskiy Lighthouse and Tokarevskaya Cat.
Road builders started preparing the roadbed for future devices pavement layers. The object came machinery - excavators, loaders and dump trucks.
According to records, after the installation of gravel base will be laid two layers of asphalt and a layer of wear. The top layer will be of schebenochnomastichnogo asphalt, which has better performance than conventional asphalt, and thus extending the life of the road. Such coatings are used in the reconstruction of the road from the station to the Sanatorium railway crossing near the station "Postyshev" as well as on the new highway "pos.Novy - De Vries - Sedanka - b. Patroclus. "

16-09-2013, 21:10, eng news
Ends finish uncompleted at Tobolsk, 11 in Vladivostok. At present, the work is done on finishing the stairwell and elevator hall block section 6-5. One of the long-term construction in the capital of...

7-08-2013, 22:33, eng news
August 52013 the prosecution of Primorsky Krai appealed the decision of the Arbitration Court of Primorye to reject the demands of the prosecutor to invalidate the auction of mining rights of the...

1-05-2013, 00:10, eng news
In late April, on the banks of the shallow bays of the Amur Bay locals found the body of a man in winter clothes. It is reported VL.ru. According to preliminary information, found the body belongs to...
4-06-2013, 15:02, eng news
Residents of the Savetski district now, there is direct access to get in Pervomaysky district. Tomorrow, June 5 in Vladivostok starts a new municipal bus route № 1 «Academic - Катерная». Movement...

19-08-2013, 18:45, eng news
As of August 19 in the Amur region in the flood under the influence of the elements were 102 settlements in 15 municipalities (Zeya, Mazanovsky, Serishevski, the Annunciation, Belogorsky, Ivanovo,...

16-07-2013, 21:46, eng news
Swimming season officially kicked off in Nakhodka, but fans of swimming opened it as soon as the water has become less warm. The debtor failed to Primorye chosen neighbor and once for a few days...
23-06-2013, 17:16, eng news
Cup of Primorsky Krai 3x3 basketball in the basketball center «Sparta» ended with the victory of the Vladivostok team ПСРЗ reported on the website of the basketball club «Spartak-Primorye». Despite...
30-04-2013, 13:20, eng news
The play about love and life will be held on the stage of the Regional Philharmonic Society......

23-05-2013, 17:20, eng news
Participants who took the first three places will be awarded with diplomas and valuable gifts from the organizer - the Administration of Vladivostok......

8-04-2013, 10:40, eng news
All the participants were awarded gifts from the Far Eastern Center of Shipbuilding and Ship Repair, which handed the head of the training Kashcheeva Marina. (PHOTOS)......