ЗНАКОМСТВА
КРАСОТА
ЗДОРОВЬЕ
ТУРИЗМ
АВТОНОВОСТИ
НОВОСТИ СПОРТА
Deputy Prime Minister Olga Golodets: we raise serious 38000000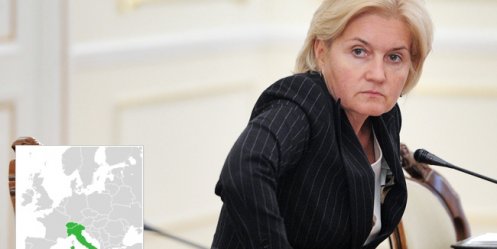 Photo: Interfax.

A significant part of the workforce involved in the Russian nelegitimizirovannom labor market and represents a serious problem for society. This was Deputy Prime Minister Olga Golodets said at the Fourth International Conference on Economic and Social Development, held in Moscow.

According to her, "Today 86 million people of working age."

"Unfortunately, our labor market today is not nearly legitimized. In the sectors that we can see and understand, employs a total of 48 million people. All the rest is not clear where busier than busy as busy " - Quoted Golodets "Interfax".

"These people are creating serious problems for the whole society" - Sure the Vice Premier.

In addition, Golodets believes that the level of skill in most specialties Russia lags behind world standards for 20 years.

"This is not an empty phrase. We lag behind literally in most professions, if not all, for 20 years from the global labor market. It is very important part of society in the preparation of standards. Standards should be about 800 " - She said.

Golodets added that Russia also has too many blue-collar occupations - more than 8000 which, according to her, there is no "no country in the world."

13-05-2013, 09:20, eng news
The province night cloudy, light, sunny rain, cloudy day, sometimes a little rain. Wind south umerennyy.Temperatura air at night 0 +10 ° C, day +3 +20 ° C......

4-07-2013, 14:17, eng news
Здесь прошла пресс-конференция «Дети и наркотики». В ней приняли участие ряд ведущих специалистов края в данной области, среди которых А.В. Личковаха - уполномоченный при губернаторе Приморского края...
26-03-2013, 15:51, eng news
The duty of the police in Vladivostok last night it was reported that the street Ovchinnikov, 12 third entrance about a man in a jogging suit and flak jacket with wires in his hands scares passersby....

10-04-2013, 15:01, eng news
In the course of the next inspection staff Rosselkhoznadzor found in dairy products, red caviar, meat and meat preparations dangerous bacteria. The products found in Primorye dangerous bacteria...
4-05-2013, 16:20, eng news
Participants motorcycle clubs and bikers single for a few hours have gathered in the center to see people and be seen. (PHOTOS)......
23-05-2013, 11:20, eng news
Information service of Radio "Lemma" - News in the full range!......

5-03-2013, 06:00, eng news
Primorye residents owed tax of about 17 thousand rubles. The requirements to pay off debts man did not react, and the bailiff went to his home. The debtor would confiscate husky puppy Debtor was not...
17-05-2013, 12:20, eng news
Classes are held on weapons training in several training locations. The soldiers perform exercises target practice with machine guns, sniper rifles, anti-tank hand grenade and grenade launchers,...

19-09-2013, 11:16, eng news
Fire in Vladivostok on Birch Street on September 18 at 0054 in the remote Fire Department received a report of Vladivostok on fire in an apartment on Birch Street. After 6 minutes the place of fire...
21-06-2013, 22:30, eng news
This action was organized on the instructions of the head of Vladivostok Igor Pushkarev. Citizens will be able to write down their congratulations already today, June 21 from 18 to 20 hours. And from...