ЗНАКОМСТВА
КРАСОТА
ЗДОРОВЬЕ
ТУРИЗМ
АВТОНОВОСТИ
НОВОСТИ СПОРТА
Russian pair won the world figure skating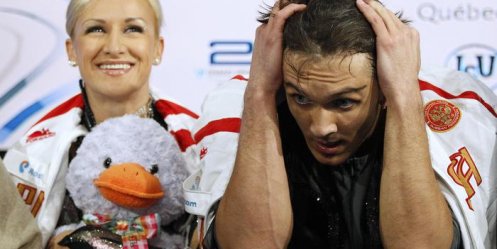 Photo: Sports Illustrated

Russian figure skaters Tatiana Volosozhar and Maxim Trankov won the world figure skating sports pairs. According to "F-Sport", after the short and long programs, they scored 22571 points.

Silver medals went to the German pair Aliona Savchenko and Robin Szolkowy, who gave a result of 20556 points. The bronze medalists were Canadians Megan Duhamel and Eric Radford (20456 points).

Another two Russian couples - Yuko Kawaguchi and Alexander Smirnov (19159 points) and Vera Bazarova and Yuri Larionov (18472 points) - took sixth and seventh place respectively.

World Figure Skating Championships held in Canada. Volosozhar and Trankov are double European champions. In the last two world championships they won the silver medal.

10-04-2013, 14:00, eng news
In Primorye, from car accidents hit two pedestrians. Both drivers of the wrongdoing from the scene, one of them managed to quickly apprehend. 2 pedestrians injured on the roads in the village...

26-07-2013, 19:01, eng news
On the territory of a large wholesale and retail trade base Nakhodka employees Rosselkhoznadzor found about 14 tons of fish and meat products of questionable quality and safety. All products are...

30-08-2013, 11:01, eng news
Back in February of this year, the mayor has put professionals to arrange well Vladivostok courts complex. That is why the local area on the street. Karl Zigure, 121416 in addition to the new...
25-06-2013, 12:15, eng news
In the framework of the program of the enterprises of small and average business can get grants for business development. With the beginning of the year made positive decisions to 24 small and medium...

12-07-2013, 15:30, eng news
Vladivostok and Suifenhe share their culinary traditions in the "Festival of culture and cuisine of Northeast Asia,"......

8-09-2013, 00:23, eng news
era. Noise installation, made from drawings era avant-garde and new facilities are designed specifically for the team Vladivostok Music composer Peter Aydu lab, turn the younger exhibition space in...

22-04-2013, 13:10, eng news
Coin Program "Sochi-2014" - one of the largest in the history of the Olympic movement - up to 2014 will be released 47 kinds of commemorative and investment coins. (PHOTOS)......

30-04-2013, 10:00, eng news
Peking Opera, which combines mime, acrobatics, vocal performance and dance, originated in the late XVIII century, and is recognized as a genre in the late XIX century......

4-03-2013, 11:08, eng news
The next city, which will host the Pre-Olympic exhibition of the "Art of being first," will Khabarovsk......

9-08-2013, 17:15, eng news
In his "collection" includes: "The Order of Lenin," medal "Gold Star" medal "Ushakov." In order to find willing to purchase awards and attract potential buyers, the detainee placed an ad on the...